Auli from Haridwar
Auli is in Uttarakhand in the Himalayan Mountains within the Chamoli district. Auli is also known as 'Auli Bugyal'in Garhwali which means "grassland," located at 2,800 meters (9,200 feet) high above sea level.From June to October, the valley has the largest number of flowering species found anywhere in the world, with 520 species of high-altitude plants, including 498 endangered species with significant population flora.
Auli is a popular skiing destination in India due to its opulent and clean environment. Skiers are naturally provided with clean stretches of 10-20 km of snow-covered mountain slopes. Auli was marketed as a tourist destination. The Auli is a popular hill town with numerous ski resorts in the Himalayan Mountains, painted with apple orchards, oaks and doodles.It is home to the Nanda Devi, Mann Parbat and the mountain range of Kammat Kamet.Many religious destinations are also scattered around Auli.It is thought that Shankaracharya blessed Auli with his visit.Garwal Mandal Bikash Nigam Limited (GMVNL) is a state government agency that takes care of the resort, and the Uttarakhand Tourism Department conducts winter sports competitions in the months of February and March to encourage skiing in India.It has a 4km (2.5 mile) cable car, a chairlift and a ski lift, along the maintained track route.
How to reach Auli from Haridwar
From Haridwar a Taxi can be hired or travel may be made by Bus as per your choice or From Joshimath one can hire jeeps to Auli. The Distance between Haridwar and Auli by Road is 204 Kms and the drive from Haridwar to Auli by road will take about 6 hours 39 minutes. Travel should be made after breakfast and must take lunch with for sure.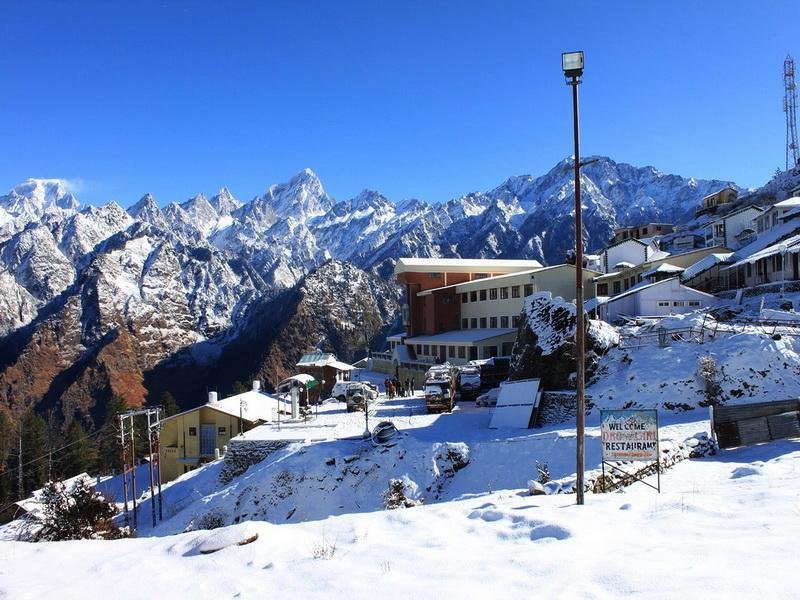 Apart from that Auli has some tourist spots and they are
Auli Artificial Lake – Auli Artificial Lake is the only man-made lake in Auli. It provides a quiet and serene environment with the skiing track. It produces fake snow during the summer and rainy months when snowfall is a rare sight.
Joshimath–  One of the best cities in Chamoli district of Uttarakhand, which is close to almost all the Auli tourist destinations.Also known as Jyotirmath, this small town is the starting point for many Himalayanexpeditions, including the trekking of the Himalayan ropeway and Badrinath in Adipath.One must cross this city to visit Auli.
Gurso Bugyal –   With a 360-degree view of the Himalayan Mountains and almost invisible, clear cities, this is what makes this trip to Gurso Bugyal a memorable experience.At an elevation of about 5 meters above sea level, you can see other ranges like Nandadevi, Trishul and Drona from the top of the hill.
Nanda Devi Peak –  Nanda Devi is the 23rd largest peak in the world and the largest in India with a height of 7,816 meters.It is a popular trekking spot surrounded by snow peaks with pine trees around it.
The night scene is mesmerizing.
Auli Ropeway – Connecting with the Yoshimath and Auli Hill Stations, the Auli Ropeway is a top destination when it comes to visiting the Auli. It is also known as the 'gondola', which travels at an altitude of 5 meters above sea level.
Also there has–  Chenab Lake, Auli Ski Resort, Trishul Peak, Kwani Bugyal,  Chattrakund, Vishnuprayag, Saildhar Tapowan, Valley of Flowers, Kwani Bugyal,  Nanda Devi National Park and so on to visit.
Ideal time to visit – There are many winter destinations in India that offer a perfect mix of adventure and entertainment and Auli, who becomes a skylight's paradise during the winter season, is one of them. The end of November to the end of March is generally considered to be the ideal time for skiers. Auli keeps a chill climate all through the time of year.