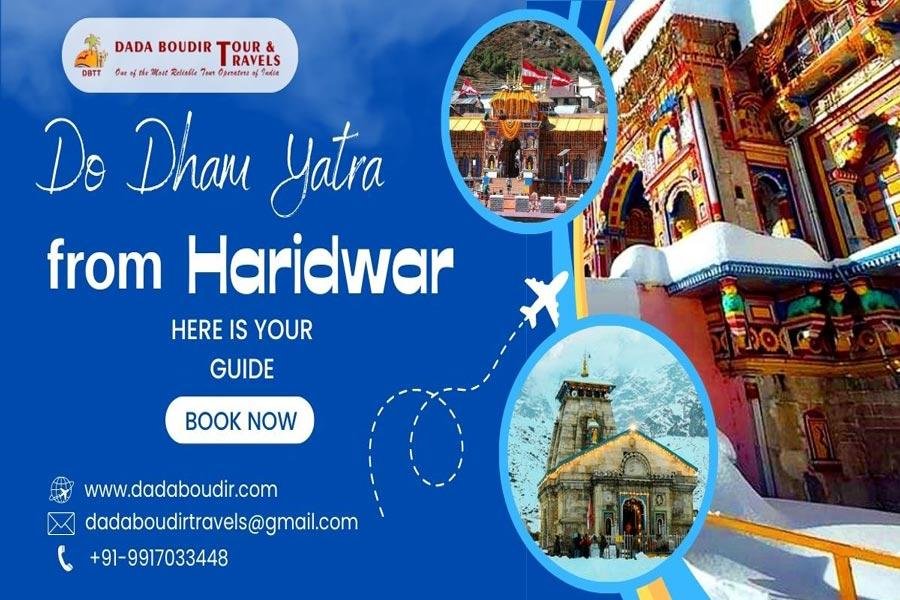 Do dham yatra from Haridwar, Here is your guide
Are you ready for an unforgettable spiritual journey? The Do Dham Yatra from Haridwar is the perfect way to explore two of the most significant pilgrimage sites in India – Kedarnath and Badrinath. These holy shrines have been attracting devotees and spiritual seekers for centuries, offering a unique blend of natural beauty, ancient architecture, and divine energy. If you're planning to embark on this life-changing experience, then sit tight as we guide you through everything you need to know about the Do Dham Yatra tour packages from Dada Boudir Tour & Travels. From transportation options and accommodation choices to essential packing tips and expert advice, we've got it all covered! So let's dive into our comprehensive guide on how to make your Do Dham Yatra from Haridwar a success!
Haridwar
Haridwar, also known as the "Gateway to God," is a beautiful city situated in the foothills of the Himalayas. It's one of India's most sacred cities and attracts millions of devotees each year who come here seeking spiritual enlightenment or taking a dip in the holy river Ganges.
The city is home to many ancient temples and ashrams that offer an immersive experience for visitors. One can explore several historical sites such as Har Ki Pauri, Mansa Devi Temple, Chandi Devi Temple, Maya Devi Temple and more.
If you're planning to start your Do Dham Yatra tour from Haridwar, then taking part in the evening Aarti ceremony at Har Ki Pauri is highly recommended. The enchanting ritual performed by priests with lamps and flowers on the banks of the River Ganga will leave you mesmerized.
Apart from its religious significance, Haridwar is also famous for its local cuisine such as chaat papdi, kachori-sabzi, jalebi etc., which are must-try delicacies while you're here.
Haridwar is a beautiful blend of history and spirituality that provides an ideal starting point for your Do Dham Yatra adventure!
The Char Dhams
The Char Dhams, also known as the four abodes, are considered to be among the most sacred pilgrimage sites in Hinduism. These four places of worship include Badrinath, Kedarnath, Gangotri and Yamunotri.
Badrinath is dedicated to Lord Vishnu and is located in Uttarakhand at an altitude of 3,133 meters above sea level. Kedarnath is dedicated to Lord Shiva and is situated in the Himalayas at a height of 3,583 meters above sea level.
Gangotri and Yamunotri are both sources of two major rivers in India – River Ganga and River Yamuna respectively. While Gangotri temple is situated at an altitude of 3,042 meters above sea level on the banks of the Bhagirathi river; Yamunotri temple lies nestled amidst the Garhwal Himalayas at a height of 3,293 meters above sea level.
Each year thousands undertake this spiritual journey from all over India to these holy shrines with great devotion. The journey not only offers spiritual satisfaction but also provides breathtaking views that leave visitors spellbound.
Types of transportation to get to the Char Dhams
Getting to the Char Dhams – Kedarnath and Badrinath – can be an arduous journey, especially if you're not familiar with the area. But don't worry! There are several types of transportation available that will make your journey easier.
For those who want a more private experience, taxis or car rentals are readily available in Haridwar. This option allows you to stop at any point during your journey and take in the breathtaking scenery on offer.
If you prefer travelling with others, buses are a popular choice for tourists visiting the Char Dhams. These buses depart regularly from Haridwar and other major cities nearby. They may not be as comfortable as taxis or car rentals but they are much cheaper.
One unique mode of transportation is by helicopter! Helicopter tours give visitors a bird's eye view of the surrounding mountains while also providing quick transport to Kedarnath and Badrinath.
For those seeking adventure, trekking is also an option. Several tour operators organize treks through scenic trails leading up to both temples. However, this requires physical fitness and proper preparation beforehand.
No matter which type of transportation you choose, always keep in mind safety measures while on your way to these holy shrines.
Where to stay while visiting the Char Dhams
When planning a Do Dham Yatra from Haridwar, it's essential to think about where you'll be staying during your trip. As these are remote pilgrimage sites located in high-altitude areas, finding comfortable and suitable accommodations can be challenging.
However, there are several options available for visitors looking to spend the night at the Char Dhams. One option is to stay at government-run guest houses which offer basic amenities such as electricity, hot water and clean rooms. These guesthouses are affordable and provide easy access to nearby attractions.
Another option is to stay at private hotels or lodges that cater specifically for pilgrims visiting the Char Dhams. They offer better facilities than government-run guesthouses but can cost more.
If you're someone who prefers an authentic experience amidst nature, camping is also an option with designated campsites situated near each of the temples.
Regardless of where you choose to stay while on your Do Dham yatra tour package from Haridwar, you must book well in advance since accommodations fill up quickly during peak season (May-June).
What to pack for the journey
When embarking on a Do Dham Yatra from Haridwar, it is important to pack wisely to make the journey as comfortable as possible. Here are some essentials that you should consider including in your backpack.
Comfortable and sturdy shoes are a must-have for this pilgrimage since there will be plenty of walking involved. Additionally, warm clothing is also necessary because the temperature tends to drop significantly at night, especially during peak seasons.
It's also wise to carry an adequate supply of water bottles or hydration packs since it can be challenging to find clean drinking water along the way. Snacks like energy bars and nuts can come in handy when hunger strikes unexpectedly.
Other items worth packing include sunscreen lotion, insect repellent creams/sprays, toiletries such as toilet paper and wet wipes (since public toilets may not always provide them), camera/phone with extra batteries or power banks for capturing memories along the way.
Remember that you'll have limited space so try not to overpack but instead focus on essential items only while keeping weight manageable. By following these guidelines, you're sure to have a hassle-free journey!
Tips for a successful dham yatra
Here are some tips that can help you have a successful dham yatra:
It's important to be physically and mentally prepared for the journey. The trek to the Char Dhams can be challenging, so make sure you're in good health and have taken all necessary precautions.
Plan your itinerary well in advance. Decide on the places you want to visit, how long you will stay at each location, and what mode of transportation you will use.
Pack light but smart. Only carry essential items such as warm clothing, comfortable shoes, toiletries and medicines. It's also advisable to carry a first aid kit with basic medication for emergencies.
Fourthly, respect local customs and traditions during your trip. Dress modestly when visiting temples or other religious sites. Do not litter or damage any natural habitats along the way.
Hire an experienced travel agent like Dada Boudir Tour & Travels which offers reliable services for Do Dham Yatra tour packages from Haridwar. Their professional team has extensive knowledge about the area which ensures that your trip runs smoothly without any inconvenience or delay.
Following these tips and working with a trusted travel agent like Dada Boudir Tour & Travels makes it more likely that your do dham yatra experience is enjoyable both spiritually fulfilling while being safe at every step of the journey
Conclusion
Does Dham Yatra from Haridwar an incredible journey that brings one closer to the divine? The Char Dhams – Badrinath and Kedarnath are two of the most popular pilgrimage destinations in India and attract a large number of devotees every year.
Dada Boudir Tour & Travels provides excellent services for the Do Dham Yatra tour packages ensuring comfortable transportation, accommodation, and hassle-free darshan at these holy places. With their expertise as a leading Do Dham Travel Agent, they create customized packages suitable for all budgets.
Remember to pack appropriately for the journey with warm clothes, comfortable shoes, medicines if necessary and other essentials. And always follow some simple tips such as carrying enough cash, and respecting local customs and traditions while on this spiritual journey.
Embark upon this wonderful journey with your family or friends by booking a package through Dada Boudir Tour & Travels today! Let this be a memorable experience that will stay with you forever.
Links to visit: www.chardhamtourism.co.in/do-dham-yatra-package-from-Haridwar or dadaboudir.com/tours/do-Dham-package