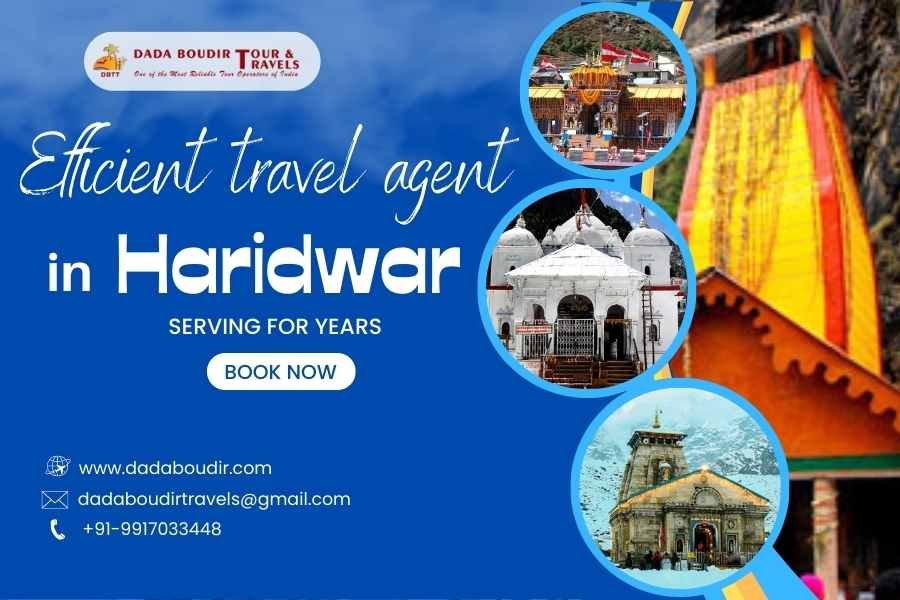 Efficient travel agent in Haridwar – Serving for years
Trusted Uttarakhand travel agency, Uttarakhand Tour Packages, Uttarakhand Tourist Spots, Uttarakhand Trip Package in Winter, Wildlife Tour in Uttarakhand, Sightseeing Travel Agent in Uttarakhand, Sightseeing Tour in Uttarakhand, Adventure Tour Packages in Uttarakhand, etc.
When it comes to exploring the enchanting beauty of Uttarakhand, there's no better companion than Dada Boudir Tour and Travels. As one of the most trusted and top 5 government-approved travel agents in Haridwar, we have been serving travelers for years, offering a wide range of services including tour packages, hotel bookings, car rentals, and more. Our unwavering commitment to customer satisfaction and our extensive knowledge of Uttarakhand make us the go-to travel agency for anyone planning a memorable trip to this picturesque state.
Table of Contents:-
Uttarakhand Tour Package
Uttarakhand Tourist Spots
Sightseeing Tour in Uttarakhand
Adventure Tour Packages in Uttarakhand
Trusted Uttarakhand Travel Agency
With Dada Boudir Tour and Travels, you can rest assured that you are in safe hands. As a trusted Uttarakhand travel agency, we prioritize your comfort, convenience, and safety above everything else. Our team of experienced professionals is dedicated to providing personalized service and ensuring that your travel experience exceeds your expectations. Whether you're a solo traveler, a couple, or a group, we have the expertise to cater to all your travel needs and create a journey that is tailor-made just for you.
Uttarakhand Tour Packages
We offer a wide range of Uttarakhand tour packages that cover all the major tourist spots in the state. Whether you're seeking a spiritual retreat in the holy towns of Haridwar and Rishikesh, a serene getaway amidst the majestic Himalayas, or an adventurous trek in the breathtaking valleys, our tour packages are designed to suit every traveler's preferences. From leisurely family vacations to adrenaline-pumping adventure tours, we have something for everyone.
Uttarakhand Tourist Spots
Uttarakhand is a treasure trove of natural beauty and cultural heritage. From the famous pilgrimage sites of Badrinath, Kedarnath, and Yamunotri to the pristine lakes of Nainital and Bhimtal, there's no shortage of attractions in this stunning state. Our knowledgeable guides will accompany you to these Uttarakhand tourist spots, providing interesting insights and ensuring that you make the most of your visit. Whether you want to witness the awe-inspiring Ganga Aarti in Haridwar or embark on a thrilling wildlife safari in Jim Corbett National Park, we'll make sure you have an unforgettable experience.
Uttarakhand Trip Package in Winter
Uttarakhand's winter season unveils a whole new world of beauty and adventure. With our Uttarakhand trip package in winter, you can witness the snow-clad peaks, frozen lakes, and cascading waterfalls that transform the landscape into a winter wonderland. Whether you want to indulge in skiing, snowboarding, or simply enjoy the serene ambiance of the mountains, we'll create a customized itinerary that captures the essence of this magical season.
Wildlife Tour in Uttarakhand
Uttarakhand is blessed with a rich biodiversity, making it a paradise for wildlife enthusiasts. Our wildlife tour in Uttarakhand takes you on an exciting journey through the dense forests and national parks, where you can spot majestic tigers, elusive leopards, playful elephants, and a variety of bird species. Our experienced guides will accompany you on thrilling jeep safaris and nature walks, ensuring that you have a close encounter with the region's fascinating wildlife.
Sightseeing Travel Agent in Uttarakhand
As a sightseeing travel agent in Uttarakhand, we understand the importance of exploring the hidden gems and offbeat attractions that the state has to offer. While we take you to popular tourist spots, we also make sure to include lesser-known places that showcase the true essence of Uttarakhand. Whether it's a picturesque village tucked away in the mountains or a tranquil waterfall hidden in the midst of lush greenery, our itineraries are crafted to give you a well-rounded experience of the region.
Sightseeing Tour in Uttarakhand
Embark on a sightseeing tour in Uttarakhand with Dada Boudir Tour and Travels, and immerse yourself in the mesmerizing beauty of this land. From the iconic temples of Uttarkashi and Gangotri to the stunning viewpoints of Mussoorie and Ranikhet, our sightseeing tours cover a wide range of attractions that showcase the cultural, historical, and natural heritage of the state. Our knowledgeable guides will provide fascinating insights and anecdotes, making your sightseeing experience even more enriching.
Adventure Tour Packages in Uttarakhand
For adrenaline junkies and adventure seekers, Uttarakhand is a playground of thrilling activities. Our adventure tour packages in Uttarakhand cater to those who crave excitement and love to push their boundaries. Whether you're interested in river rafting, trekking, camping, paragliding, or mountaineering, we have carefully curated packages that combine the best of adventure and exploration. Our experienced instructors and guides ensure your safety while providing an exhilarating experience that you'll cherish for a lifetime.
In conclusion, Dada Boudir Tour and Travels, the trusted Uttarakhand travel agent, is your gateway to discovering the true essence of this captivating state. With our extensive range of tour packages, dedicated customer service, and in-depth knowledge of Uttarakhand, we are committed to creating unforgettable travel experiences for all our clients. So, whether you're planning a family vacation, a romantic getaway, or an adventure-filled expedition, allow us to be your partner in making your dreams come true.
Know about us: https://dadaboudir.com/about-us.html
Our other wings: