Mythological significance of Chardham yatra
Mythological significance of chardham yatra
India is a nation full of spiritual beliefs, cultural values and heritage wonders. India is surely a prime focus for the seekers of placidity and spirituality. Char Dham Yatra in Uttarakhand, embraces some of the most visited pilgrimages in India. It is also distinguished as the Teerth Yatra (pilgrimage) to four well known Temples of the Hindu Gods that is Yamunotri, Gangotri, Kedarnath and Badrinath. The Char Dham Yatra is treated as a pilgrimage of salvation, thus every year thousands of pilgrims make their way to these divine lands to wash away their sins.
Chardham holds vast significance and position in Hindu Mythology. According to the beliefs Shri Adi Shankaracharya first sanctified and worshiped Badrinath about 2500 years ago. The Yatra starts from Haridwar to Yamunotri then Gangotri thereafter Shri Kedarnath dham and finally Shri Badrinath dham. To accomplish tranquility pilgrims complete the Char Dham tour.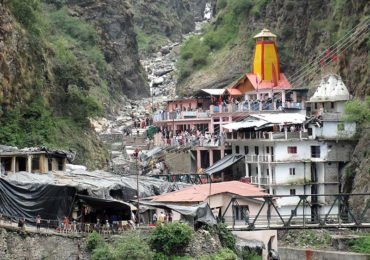 Yamunotri Dham
Yamunotri is the source of the holy Yamuna River. Yamunotri Dham is one of the prime pilgrimage destination for Hindus as it treasure divine Yamunotri river. According to the Mythology Yamuna was the sister of Yamraj and so, Yamraj made a promised to Yamuna on Bhai Dooj that anyone who will take a dip in the Yamuna River will not be taken to Yamlok and he/she would obtain salvation.
Yamunotri Dham is the accommodation of Goddess Yamuna. Spiritual Yamunotri Dham is at an altitude of 3,293 metres in the Garhwal Himalayas and located roughly 30 kilometers North of Uttarkashi,Uttarakhand, India. The purified environment here contains cold tides of Yamuna and the thermal springs popular as Kunds of Hindu Goddess 'Shakti' makes sure that the side sides remains warmed up.
Gangotri Dham
The virtuous River Ganges is the primary feature of Gangotri Dham is Gomukh, which is the source of the divine River Ganges.
According to the Mythology Ganga is said to reside in the pot of Brahma and at the feet of Vishnu. Ganga descended on the Earth at Gangotri in a result of Raja Bhairath's penance and prayer for thousands of years for the salvation of his sinning ancestors. But, lord Shiva had to to hold Ganga Mata on his matted locks because earth was not capable enough to endure the immense force of her water body. After getting her way from Gaumukh (the Glacier) to reaching Gangasagar in Bay of Bengal she traveled through the curving path of the Himalayas and the Plains.
Shri Kedarnath Dham
Kedarnath found his name from a king of Satyug named Kedar. The lord of Kedar is Kedarnath. According to beliefs Shri Adi Shankaracharya in around 800 AD built the current Kedarnath temple. The scientists believes that the temple is hard enough to endure the difficult weather conditions tho it was covered under snow for 400 years from 13th to 17th AD. Earlier at this place a temple was built Pandavas but it could not stand against Time.
Shri Badrinath Dham
It is to said that in Badrinath there is a very powerful Bhairavi Yantra which effuses out powerful radiations all around and this effect makes the people around it feel calmness of mind. When the temple closes down for six months because of snow falls, during that time Narad Muni himself come down to the Shi Badrinath Dham Temple for regular Puja as evident for the fact that even after six long months the lamp filled with clarified butter (ghee) is seen to be still burning. It is also believed that there will be a disastrous landslide in near future and Badrinath will be out of reach of the common mass as it will be cut off from the world. Then, at that time Badrinath will be located at a lower elevation of 2,744 m about 17 km from Joshimath towards Lata and will be worshiped as Bhavishya Badri.
Spiritual Significance
Spiritual Upliftment is the primary reason to visit Chardham for the pilgrim. It is said that any Hindu who ever had visited these four sacred lands sense a spiritual connection from within. One can not explain in mere words, the inner peace and serenity he/she feels in those sacred places. It is believed that no one can put a single toe on this land of Gods, unless the almighty attracts the soul. According to Hindu beliefs visiting Chardham is religious duty. Pilgrims believe that in order to achieve 'Enlightenment' by washing out all the sins which were gained through numerous births and rebirths, visiting these holy places is the best way.
Best Time to Visit Chardham
The best time to commence on the Chardham Yatra will be from May to October that too excluding the monsoons in July-September.In Akshaya Tritiya Gangotri and Yamunotri open its portal, and for Badrinath and Kedarnath on Basant Panchami and Maha Shiv Ratri. Then in Deepavali divine Gangotri closes and Yamunotri just after two days of Deepavali on Yama Dwitiya (Bhai Dooj) then Badrinath on Vijaya Dashami and on Kartik Poornima its Kedarnath. All the dates are decided by the governing committee of each temple and it's priests and they take reference from their traditional almanac.
It is believed that on November to April, despite the fact that all the dhams remain under snow and not a single living soul resides there as these temples are located at the higher altitudes of Himalayas, still during this time that powerful hermits keeps meditating the Lord without any food and water in the caves for whole year around. It is also said that only the fortunate enough get their spiritual guidance.