We are not only a "Travel Agency in Haridwar"
Welcome to Haridwar, the spiritual city of India! A place where the holy river Ganges flows and takes away all your sins. But did you know that Haridwar is not just a pilgrimage destination? It's also a hub for adventure seekers, wildlife enthusiasts, and honeymooners. And if you're planning a trip to this beautiful city, Dada Boudir Tour & Travels has you covered. We are not just any travel agency in Haridwar; we offer a wide range of services that will make your trip unforgettable. So let's dive into the different types of services we provide and why we are the best travel agency in Haridwar!
Haridwar – A Spiritual City
Haridwar, also known as the "Gateway to God," is one of the seven holiest places in Hinduism. It's located at the foothills of the Shivalik range of the Himalayas and is considered a spiritual city for centuries. People from all over India come here to take a dip in the holy river Ganges, which they believe washes away their sins.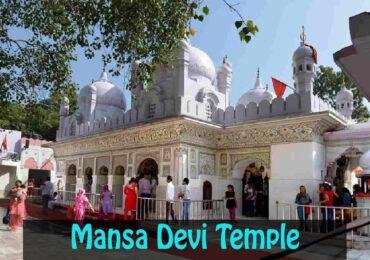 The city has several religious sites like Har Ki Pauri, Mansa Devi Temple, Chandi Devi Temple, and many more that attract thousands of devotees every day. The evening Ganga Aarti performed on Har Ki Pauri ghat is an awe-inspiring experience that you must not miss.
Apart from religious significance, Haridwar also offers peace and solitude to those seeking it. You can sit by the banks of the river Ganges and enjoy its tranquillity or meditate at any ashrams present in Haridwar.
If you want to explore spirituality or seek inner peace amidst nature's beauty, then Haridwar should be your next destination!
The Different Types of Services that We Offer
At Dada Boudir Tour & Travels, we offer a wide range of services to make your trip to Haridwar unforgettable. While we are known as a travel agency in Haridwar, our offerings go beyond just booking tours and arranging transportation.
Our hotel reservation service is perfect for those who prefer to have their accommodations taken care of before they arrive. We work with some of the best hotels in the area to ensure that you have a comfortable stay while exploring all that Haridwar has to offer.
For those planning on embarking on the Char Dham Yatra, our Char Dham hotel booking and Kedarnath Yatra by helicopter services can help simplify your journey. Our team will take care of all the necessary arrangements so that you can focus on enjoying this spiritual pilgrimage.
We also offer air ticketing and railway-e-ticketing services for those travelling from afar or within India. This allows our clients to easily secure their transportation needs without any hassle.
If adventure is more your style, then look no further than our Adventure Tour Packages which include activities such as trekking, camping, rafting and much more! Wildlife enthusiasts can explore nature's beauty with our Wildlife Tour Packages which includes visits to national parks like Rajaji National Park etc.
Whether it's a honeymoon tour package or Golden Triangle Tour Packages – Delhi-Agra-Jaipur – we want every bit of your trip memorable. With us at DBTT, everything from start to finish will seamlessly come together making it an experience you'll treasure forever!
Why Choose Us?
At Dada Boudir Tour & Travels, we understand that choosing a travel agency can be overwhelming. That's why we strive to offer more than just basic travel services. We aim to provide an unforgettable experience for our clients.
Our team consists of experienced professionals who are passionate about providing top-notch service. From the moment you contact us, you'll receive personalized attention and care tailored to your needs.
We take pride in offering a wide range of services beyond just hotel reservations and car rentals. Whether it's booking air or train tickets, organizing adventure tours or wildlife expeditions, we have got you covered.
What sets us apart is our commitment to quality and customer satisfaction. Our extensive knowledge of Haridwar and surrounding areas means we can provide unique insights into local attractions and hidden gems off the beaten path.
When you choose Dada Boudir Tour & Travels as your travel partner, you're choosing peace of mind knowing that your trip will be stress-free from start to finish with memories that will last a lifetime.
How to Contact Us
Are you interested in our services and want to know more about how we can help you plan your trip to Haridwar? Don't hesitate to contact us! We are always available to answer any questions or concerns that you may have.
To get in touch with us, simply visit our website and fill out the contact form. One of our friendly representatives will respond via email or phone call as soon as possible. Alternatively, you can directly call us at the number provided on our website.
We understand that each of our clients has unique needs and preferences when it comes to travel planning. That's why we customize every package according to your specific requirements. Whether it's a romantic honeymoon getaway, an adventure-packed tour, or a spiritual pilgrimage, we've got you covered.
Our team is knowledgeable about all aspects of travel planning, including hotel reservations, transportation bookings, ticketing arrangements, etc. So feel free to ask us any questions related to your upcoming trip – we're here for you!
At Dada Boudir Tour & Travels, customer satisfaction is our top priority. Let us help make your journey truly memorable by providing exceptional service every step of the way!
Conclusion
Dada Boudir Tour & Travels is much more than just a travel agency in Haridwar. We offer a range of services that cater to the various needs and preferences of our customers. Whether you are looking for a spiritual journey or an adventure trip, we have got you covered.
Our team comprises experienced professionals who ensure your comfort and safety throughout the journey. From hotel reservations to car rentals, air ticketing to railway e-ticketing, we take care of all your travel needs.
So why settle for less when you can get the best with Dada Boudir Tour & Travels? Contact us today and let us help plan your next memorable trip!
For details of our hotel booking service in Uttarakhand visit dadaboudir.com/hotel-reservation.html