Uttarakhand holiday tour
Exploring The Majestic Beauty Of Uttarakhand: An Unforgettable Holiday Tour
Uttarakhand, located in the lap of the majestic Himalayas, is a treasure trove of natural wonders, spiritual retreats, and thrilling adventures. With its picturesque landscapes, serene valleys, glistening rivers, and towering peaks, this northern state of India is an ideal destination for an unforgettable holiday tour. Whether you seek tranquillity amidst nature, wish to embark on exhilarating treks, or are eager to explore ancient temples, Uttarakhand has something to offer to every traveller.
Join us as we delve into the charm of the region through this Uttarakhand holiday tour guide and discover why this destination should be on your travel bucket list.
Embracing Nature's Magnificence 
Uttarakhand's scenic beauty is unmatched, offering an abundance of opportunities to connect with nature. Start your journey by visiting the iconic Jim Corbett National Park, India's oldest national park, known for its rich biodiversity and the majestic Royal Bengal Tiger. As you venture further, witness the captivating beauty of Nainital, a hill station adorned with a tranquil lake surrounded by lush hills. Take a boat ride or simply stroll along Mall Road, soaking in the serene ambience.
Continue your expedition to the ethereal beauty of Mussoorie, also known as the "Queen of Hills." Trek to Kempty Falls and revel in the refreshing cascade of water amidst breathtaking surroundings. For those seeking solitude, head to the Valley of Flowers National Park, a UNESCO World Heritage Site, where an explosion of vibrant blooms awaits.
The Uttarakhand holiday tour boasts a plethora of picturesque hill stations that provide a respite from the scorching summer heat. Nainital, also known as the "Lake District of India," is a charming hill station famous for its pristine Naini Lake and panoramic views from Naina Peak. Mussoorie, popularly known as the "Queen of Hills," captivates visitors with its lush green hills, cascading waterfalls, and mesmerizing view of the Doon Valley. Other notable hill stations include Ranikhet, Almora, and Auli, which offer a blend of natural beauty and tranquillity.
Spiritual Bliss in Devbhoomi 
Uttarakhand is often referred to as Devbhoomi, the land of gods and goddesses. The state is home to the Char DhamYatra, a revered pilgrimage comprising the sacred sites of Yamunotri, Gangotri, Kedarnath, and Badrinath. Embark on this spiritual journey to seek blessings and witness the awe-inspiring beauty of the Himalayas.
In Haridwar, witness the mesmerizing Ganga Aarti on the banks of the holy river Ganges, a spiritual ceremony that attracts devotees from around the world. Rishikesh, the Yoga Capital of the World, offers a serene escape with its ashrams, where you can learn and practice yoga and meditation techniques. Attend the evening Ganga Aarti at ParmarthNiketan Ashram, a captivating ritual that infuses the air with spirituality.
Uttarakhand is blessed with diverse flora and fauna, making it a haven for wildlife enthusiasts and nature lovers. Jim Corbett National Park, the oldest national park in India, is a treasure trove for wildlife enthusiasts. It is renowned for its population of Royal Bengal Tigers, elephants, leopards, and various species of birds. The park offers thrilling jeep safaris and elephant rides, allowing visitors to explore the wilderness and witness the majesty of the animal kingdom up close.
Thrilling Adventures for Adrenaline Junkies
Uttarakhand is a paradise for adventure enthusiasts, offering a plethora of adrenaline-pumping activities. Plan your Uttarakhand holiday tour through a reliable travel agent, Dada Boudir Tour and Travels, and experience the best retreat to immerse yourself in this paradise. Trekking enthusiasts can embark on the challenging trails of Roopkund, Har Ki Dun, or the Valley of Flowers, experiencing the thrill of conquering towering peaks and witnessing breathtaking panoramas.
For a heart-stopping experience, indulge in river rafting in Rishikesh, battling the mighty rapids of the Ganges. Paragliding in the serene landscapes of Nainital and Mussoorie offers a bird's-eye view of the picturesque surroundings. Skiing in Auli, Uttarakhand's premier skiing destination, is a must-do during the winter months, where you can glide through snow-covered slopes amidst the majestic Himalayan peaks.
Uttarakhand offers numerous opportunities for peaceful retreats and rejuvenation. The tranquil town of Haridwar is known for its holy ghats and the famous Ganga Aarti, a spiritual ceremony performed on the banks of the River Ganges. The hill station of Lansdowne, with its pleasant weather and panoramic views, is a perfect getaway for those seeking solitude. Additionally, the wellness retreats and yoga centres in Rishikesh provide an ideal environment for spiritual growth and inner peace.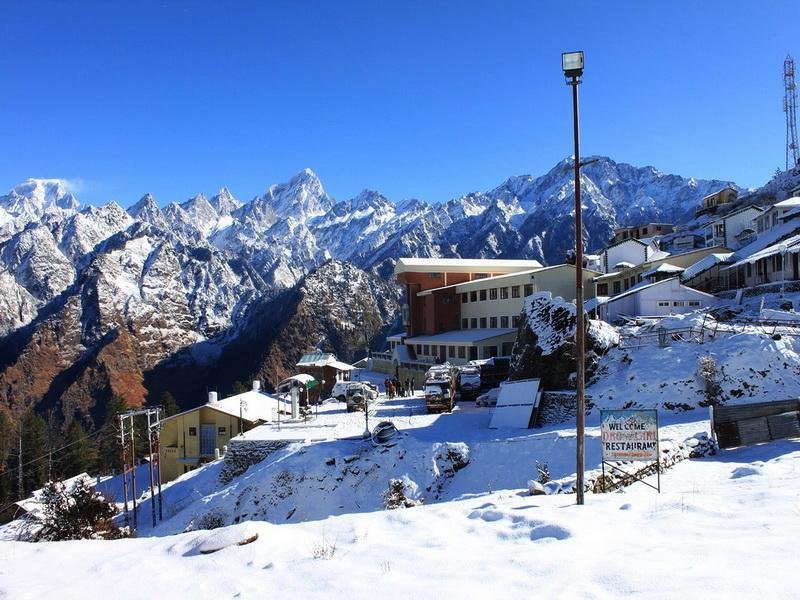 Cultural Gems and Architectural Marvels 
Uttarakhand's rich cultural heritage is evident in its ancient temples, architectural marvels, and vibrant local festivals. Pay a visit to the Kedarnath Temple, dedicated to Lord Shiva, and marvel at its architectural grandeur amidst the stunning backdrop of the Garhwal Himalayas. The Badrinath Temple, another significant pilgrimage site, is a sight to behold with its intricate carvings and religious fervour.
Immerse yourself in the traditional Kumaoni and Garhwali cultures as you explore the quaint villages and interact with the warm-hearted locals. Attend local festivals such as the KumaoniHoli or the Nanda Devi Raj JatYatra, showcasing the rich cultural tapestry of Uttarakhand.
Uttarakhand is a treasure trove of rich cultural heritage. The state celebrates various festivals with great fervour and showcases traditional dance forms like the Garhwali and Kumaoni dances. The KumaoniHoli, known as "KhariHoli," is a unique celebration where people play with colours and musical instruments. The state's cuisine, with its distinct flavours and local delicacies like Bhatt kiChurdkani, AlooKeGutke, and Kafuli, is a delight for food enthusiasts.
Conclusion 
The Uttarakhand holiday tour promises an enchanting blend of natural beauty, spiritual rejuvenation, thrilling adventures, and cultural exploration. Whether you're seeking solitude, adventure, or spiritual enlightenment, this magnificent state has it all. Embrace the charm of Uttarakhand as you traverse through its diverse landscapes, connect with nature, delve into spirituality, and create unforgettable memories that will last a lifetime.
With its captivating blend of natural beauty, spiritual serenity, and thrilling adventures, this region is truly a paradise waiting to be explored. From the divine charms of its ancient temples to the breathtaking vistas of its hill stations, this enchanting state offers a holiday experience like no other.
Let Uttarakhand weave its magic on you, leaving you with a sense of wonder and longing for more. Embark on a journey to Uttarakhand and immerse yourself in the magic of this mesmerizing destination.
For more information visit:- Auli Mussoorie tour package, Wildlife tour package in Uttarakhand, Nainital tour itinerary package, Mussoorie Haridwar tour itinerary package, Uttarakhand Trip, Honeymoon tour packages in Uttarakhand, Low-cost Uttarakhand pilgrimage tour, Uttarakhand best travel agency, Festivals in Uttarakhand, Days tour in Uttarakhand.
for details, you always can visit our website:- Chardham Yatra 2023 tour package, Haridwar Lansdowne Khirsu Pauri tour package, Rishikesh tour package, Uttarakhand family tour packages.