Uttarakhand tour packages from Haridwar
Best Uttarakhand tour packages from Haridwar
Uttarakhand tour packages from Haridwar are one of the most demanding tour packages in India. Get drenched in the holy waters of the auspicious places of India. Pack your bags and get ready for an amazing journey that Dada Boudir Tour and Travels have to offer you. It's a great opportunity to spend a week's of your time amongst the mesmerizing beauty of the holy places.
Considering your need and desire to spend some time with nature and roam amidst the unexplored beauty, Dada Boudir Tour and Travels has brought you an amazing tour package that you just cannot say no to!
The tour consists of your journey from Haridwar to Uttarakhand. It is a golden opportunity to satisfy your need of visiting a pilgrim city along with giving you the immense pleasure of indulging in the sightseeing across Uttarakhand.
Get Pilgrimage and Sightseeing tour packages from Haridwar ==> Chardham Yatra Tour Package, Badrinath Auli Tour Package, Do Dham Yatra Tour Package, Gangotri Temple Tour Packages, Yamunotri Dham Tour Packages, Haridwar Ganga aarti darshan tour Package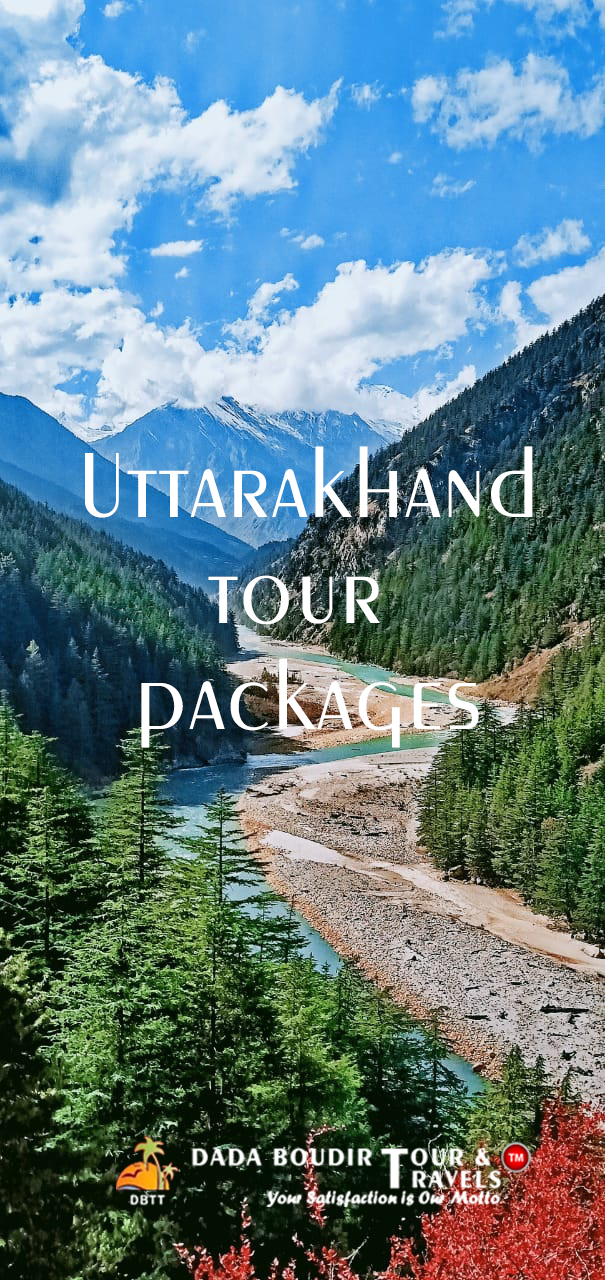 It is a customizable package that lets you explore the terrains that have always attracted you. Go solo or go with your trip, we are here to assist and plan your trip, all you need to do is to let your hair down and breathe the fresh air!
Your journey starts with Haridwar, the land of Ganga. Visit all the famous places of the region, without possibly missing the famous Ganga Aarti. Get immersed in the exotic view of the aarti and end your day with a delicious dinner and comfortable stay in a hotel.
Start your next day with the journey to Rishikesh, another mesmerizing place with jaw-dropping views all around.
Your next destination would be Dehradun, one of the oldest cities in India that glitters like a stone in the lower Himalayan region. The city is also one of the most popular hill stations in India. The tour will allow you to visit all the amazing places of this stunning city, and live your dreams.
The next two days of the tour also promise you to be stunned as you were when you started the journey. The wait and the trip feel worth every single minute and penny that you spend. Mussoorie and Dhanaulti are your two other destinations. Both the places have their own unique features and some awesome places which are a must-visit, at least once in your lifetime.
Give yourself a week's time, and you will return home all rejuvenated from the exciting thrills and mesmerizing views that will swipe your path. Make your acquaintance with nature in the most unconventional way and have a luxurious time in its lap.
Uttarakhand popular tour packages ==> Agra Mathura Vrindavan Tour Package, Haridwar Rishikesh Dehradun Mussoorie Tour Package, Uttarakhand Trip (Haridwar, Rishikesh, Dehradun, Mussoorie, Dhanaulti), Nainital Kausani And Jim Corbett National Park Tour Package, Auli Chopta tour package from Rishikesh
For all tour packages in Uttarakhand visit https://dadaboudir.com/tours.html
This eccentric journey will take you away from all your daily-life stress and improve your mental, physical and emotional health, while introducing you to spirituality. With Dada Boudir Tour and Travels, you will never have to experience any stress of managing your tour plans or organizing your travel from one point to another. We have everything arranged for you. All we give you is a refreshing feel that reviews your mood in the serene environment amidst pure water bodies and Skyscraping Mountains. Create memories and expand your horizon of traveling to new places, a well-planned vacation is all that you need right now.
More useful resources: Wildlife Tour Package in Haridwar, Uttarakhand Tourist Attraction, Haridwar Tour Package, Taxi Service in Haridwar