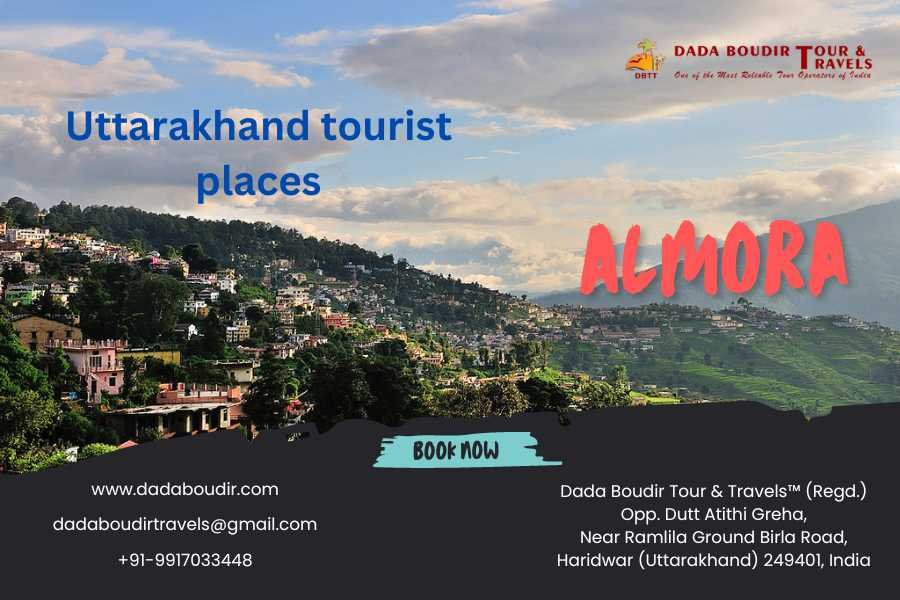 Uttarakhand tourist places Almora (Part 2)
Almora, nestled in the Garhwal Himalayas of Uttarakhand, is a picturesque hill station known for its scenic beauty, rich cultural heritage, and spiritual significance. With its tranquil surroundings and breathtaking views, Almora has become a favorite destination for travelers seeking a peaceful getaway. Let's explore the top tourist places Almora to visit in 2023.
Table of Almora tourist places
Chitai Golu Devta Temple
Bright End Corner
Martola
Kalimat
Deer Park
Govind Ballabh Pant Public Museum
Simtola
Katarmal Sun Temple
Kasar Devi Temple
Nanda Devi Temple Almora
Lakhudiyar Rock Painting
Jageshwar
Chitai Golu Devta Temple: Located atop a hill, this ancient temple is dedicated to the deity Golu Devta, who is believed to fulfill the wishes of devotees. The temple is known for its unique tradition of tying bells, representing wishes, on its premises.
Bright End Corner: Offering a panoramic view of the Himalayas, Bright End Corner is a viewpoint that provides a mesmerizing sight of the sunset and sunrise. The place is perfect for nature lovers and photographers.
Martola: A beautiful picnic spot surrounded by lush green forests, Martola is ideal for spending a peaceful day amidst nature. The serene ambiance and the chirping of birds make it a haven for nature enthusiasts.
Kalimat: Situated around 5 kilometers from Almora, Kalimat is known for its stunning views of the Himalayas. It is a popular spot for trekking, and the adventurous ones can explore the nearby forests and enjoy the tranquil atmosphere.
Deer Park: Located near Almora, the Deer Park is a treat for wildlife enthusiasts. It is home to various species of deer and is an excellent place for nature walks and birdwatching.
Govind Ballabh Pant Public Museum: This museum is dedicated to the renowned freedom fighter Govind Ballabh Pant and showcases artifacts related to the history, culture, and art of the region. It is a must-visit for history buffs.
Simtola: A picturesque picnic spot surrounded by lush green forests, Simtola offers breathtaking views of the Himalayas. The place is perfect for a quiet retreat and enjoying the beauty of nature.
Katarmal Sun Temple: Situated at a distance of 17kilometers from Almora, the Katarmal Sun Temple is an ancient shrine dedicated to the Sun God. It is renowned for its intricate architecture and is one of the few Sun temples in the country.
Kasar Devi Temple: Known for its spiritual significance, Kasar Devi Temple is believed to be the place where Swami Vivekananda meditated. It offers a serene ambiance and a panoramic view of the surrounding valleys.
Nanda Devi Temple Almora: Dedicated to Goddess Nanda Devi, this temple is a significant religious site for the locals. It holds great cultural and religious importance and attracts devotees from far and wide.
Lakhudiyar Rock Painting: For history and art lovers, Lakhudiyar Rock Painting is a must-visit. These prehistoric rock paintings are estimated to be around 8,000 years old and provide a glimpse into the region's ancient civilization.
Jageshwar: Located at a distance of around 36 kilometers from Almora, Jageshwar is famous for its cluster of ancient temples dedicated to Lord Shiva. The intricate stone carvings and the serene surroundings make it a significant pilgrimage site.
Hidden Places Near Almora:
Apart from the popular tourist places Almora also offers hidden gems that are worth exploring. Some of these lesser-known places include Binsar Wildlife Sanctuary, Kasar Devi Bazaar, Binsar Mahadev Temple, Kumaon Regimental Centre Museum, and Gairar Golu Devta Temple. These offbeat destinations provide a unique experience and allow travelers to delve deeper into the local culture and natural beauty.
Best Time to Visit Almora:
Almora experiences a pleasant climate throughout the year, making it a year-round destination. However, the best time to visit Almora is during the months of March to June and September to November. During these periods, the weather remains favorable, and the lush green surroundings and clear skies add to the charm of the place.
Tourist Places to Visit in Almora 2023:
In 2023, Almora promises to offer an unforgettable experience to tourists. With its diverse attractions and serene ambiance, it caters to the interests of nature lovers, adventure enthusiasts, history buffs, and spiritual seekers. Whether it's exploring ancient temples, witnessing breathtaking views, indulging in adventure activities, or immersing in the local culture, Almora has something for everyone.
Dada Boudir Tour & Travels™: Your Trusted Travel Partner in Almora
To make your visit to Almora seamless and enjoyable, rely on Dada Boudir Tour & Travels™ – the most trusted and government-approved travel agent in Haridwar. With their deluxe vehicles and expertly designed tour packages, Dada Boudir Tour & Travels™ ensures comfortable accommodation and hassle-free transportation throughout your journey. From hotel bookings to car rentals and even helicopter bookings, they offer a comprehensive range of services to cater to all your travel needs.
Contact Dada Boudir Tour & Travels™ today via phone or email to plan your perfect trip to Almora. With their exceptional quality services and commitment to customer satisfaction, they will ensure that your visit tourist places Almora becomes a cherished memory.
For more information visit https://dadaboudir.com/haridwar-nainital-kausani-corbett-tour-package-price/ or http://www.travelagentinharidwar.com/travelling-places/almora.html