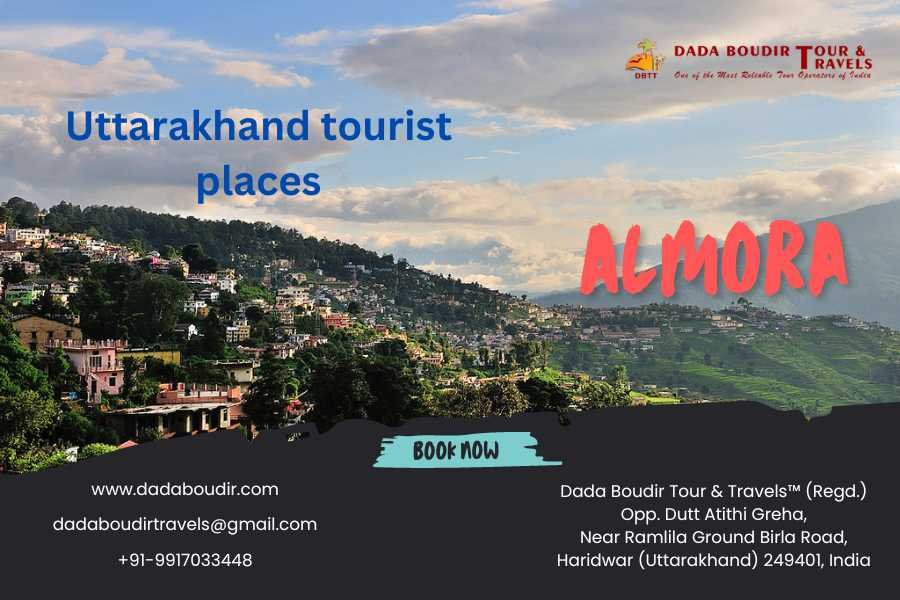 Uttarakhand tourist places Almora (Part 1)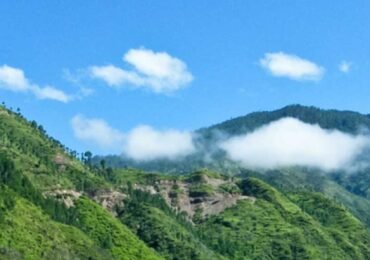 Almora, nestled amidst the breathtaking Garhwal Himalayas in Uttarakhand, is a nature lover's paradise. With its picturesque landscapes, serene environment, and a rich cultural heritage, Almora offers a unique and enchanting experience to travelers. In this article, we will explore some of the most popular Uttarakhand tourist places Almora, top things to do in this hill station, and essential weather information that will help you plan your visit. So, let's embark on a virtual journey to Almora!
Almora: Nature's Paradise of Uttarakhand:
Almora boasts a plethora of attractions that showcase the beauty and tranquility of the region. Here are some of the must-visit tourist places Almora:
Chitai Golu Devta Temple: This ancient temple dedicated to Golu Devta, the local deity, is famous for its unique collection of bells. Devotees offer bells here, seeking blessings and fulfillment of their wishes.
Martola: Martola is a peaceful picnic spot surrounded by lush greenery. It offers panoramic views of the snow-capped Himalayas and is a perfect place to relax and rejuvenate.
Kalimat Temple: Situated atop a hill, Kalimat Temple is a revered religious site dedicated to Goddess Kali. The temple provides a serene atmosphere and panoramic vistas of the surrounding valleys.
Deer Park: As the name suggests, Deer Park is home to various species of deer and other wildlife. It is an ideal place for nature enthusiasts and photographers to explore the diverse flora and fauna.
Kasar Devi Temple: This ancient temple holds immense spiritual significance and offers mesmerizing views of the valley. It has been a hub for spiritual seekers and artists for many years.
Patal Devi Temple: Located inside a cave, Patal Devi Temple is a sacred shrine dedicated to Goddess Patal Devi. The mystical ambiance and the spiritual aura attract devotees from far and wide.
Jhula Devi Temple: Jhula Devi Temple is known for its unique tradition of tying bells by devotees to seek the fulfillment of their wishes. Legend has it that the goddess fulfills the wishes of those who offer bells.
Binsar Wildlife Sanctuary: Nature enthusiasts will be enthralled by the Binsar Wildlife Sanctuary, home to a variety of flora and fauna. Trekking through the sanctuary offers a chance to witness the pristine beauty of the region.
Jageshwar Dham: Jageshwar Dham is a complex of ancient temples dedicated to Lord Shiva. It is renowned for its intricate architectural marvels and spiritual significance.
Top Things to Do in Almora Hill Station:
Apart from visiting the tourist attractions, Almora offers several exciting activities to make your trip memorable:
Nature Walks: Immerse yourself in the natural beauty of Almora by taking leisurely walks through its scenic trails. The fresh mountain air and picturesque surroundings will rejuvenate your mind and body.
Shopping for Local Handicrafts: Almora is known for its unique handicrafts, including wooden artifacts, copperware, and handwoven textiles. Explore the local markets and take home some exquisite souvenirs.
Yoga and Meditation: Almora's serene environment makes it an ideal destination for practicing yoga and meditation. Join a yoga retreat or find a tranquil spot to meditate amidst the majestic Himalayas.
Wildlife Safari: Experience the thrill of spotting diverse wildlife species by embarking on a wildlife safari in the Binsar Wildlife Sanctuary. Capture the beauty of nature through your lens.
Almora Weather Information:
Understanding the weather patterns in Almora is crucial for planning a visit. Here's a brief overview of the different seasons:
Summer Weather in Almora: During summers (April to June), Almora experiences pleasant weather with temperatures ranging from 15°C to 30°C. It is an ideal time to escape the scorching heat of the plains and enjoy the cool mountain breeze.
Monsoon Weather in Almora: Almora receives moderate to heavy rainfall during the monsoon season (July to September). The lush greenery and cascading waterfalls make this a beautiful time to visit, but landslides may occur, so caution is advised.
Winter Weather in Almora: Winter (October to March) brings cold temperatures ranging from 0°C to 15°C. The region experiences occasional snowfall, creating a magical winter wonderland. It is the perfect time for snow enthusiasts and those seeking a cozy retreat.
FAQs about Almora:
What is Almora's claim to fame?
Almora is renowned for its scenic beauty, cultural heritage, and spirituality. It attracts travelers seeking tranquility and a connection with nature.
Does it ever snow in Almora?
Yes, Almora experiences snowfall during the winter months, providing a picturesque landscape for visitors.
How risky is it to go to Almora in the winter?
While winter in Almora can be cold, with occasional snowfall, the town is well-prepared for visitors. However, it is advisable to check weather conditions and road accessibility before planning a winter trip.
From Almora, are the Himalayas visible?
Yes, Almora offers stunning views of the majestic Himalayan mountain range. The panoramic vistas are a treat for the eyes and a delight for nature lovers.
What is the ideal time to go to Almora?
The ideal time to visit Almora depends on personal preferences. Summer and autumn are popular for pleasant weather, while winter attracts snow enthusiasts. Monsoon is ideal for experiencing the lush greenery and monsoon showers.
Conclusion:
Almora, the nature paradise of Uttarakhand, captivates travelers with its scenic beauty, spiritual heritage, and serene atmosphere. Whether you seek tranquility, adventure, or a spiritual retreat, Almora offers a perfect blend of experiences. Explore its enchanting attractions, indulge in exciting activities, and immerse yourself in the breathtaking beauty of the Garhwal Himalayas. Plan your visit tourist places Almora and create memories that will last a lifetime.
For further details and to plan your trip to Almora, please contact 'Dada Boudir Tour & Travels,' the most trusted and government-approved travel agent in Haridwar. They offer excellent tour packages, hotel bookings, car rentals, and helicopter bookings to make your journey seamless and memorable. Visit their website or reach out to them via phone or email for more information.
The ancient town of Almora, before it's establishment was under the possession of Katyuri king Baichaldeo. He donated a major part of this land to a Gujrati Brahmin Sri Chand Tiwari. Later on, when Chand kingdom was founded in Baramandal, the town of Almora was founded at this centrally located place in 1560 by Kalyan Chand.
In the days of the Chand Kings, it was called Rajapur. The name 'Rajpur' is also mentioned over a number of ancient copper plates. The town of Almora is situated over a horse saddle shaped ridge of a mountain. The eastern portion of the ridge is known as Talifat and the western one is known as Selifat. The market is at the top of the ridge where these two, Talifat and Selifat jointly terminate.
Swami Vivekananda had this to say about tourist places Almora. "These mountains are associated with the best memories of our race: Here, therefore, must be one of the centers, not merely of activity, but more of calmness of meditation, and of peace and I hope someone day to realize it." In fact, he expressed a desire to have a meditation center established here and the Ramakrishna Mission at Bright End Corner is not an active ashram but is a quiet retreat for monks.
Read more Ranikhet and Kausani – Places to visit, Uttarakhand Honeymoon Packages, Haridwar Nainital Almora Ranikhet Kausani tour package,